Supreme regularly
1) installs new wiring systems,
2) upgrades existing electrical systems to NEC and local standards, and
3) repairs damaged electrical systems.
We have specifically dealt with many insurance claims, such as fire-damaged electrical wiring.
We provide a free onsite visit and inspection of your premises to determine your electrical wiring needs and to generate an estimate of your specific project's cost. Supreme also works with your existing electrical plans for commercial and industrial projects. Recommendations for the modification of plans per NEC codes are provided when Supreme takes note of special circumstances on the building site.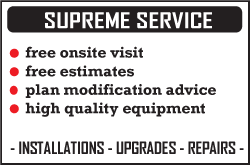 Our projects have included: